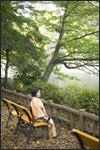 Becoming Vulnerable
Aging brings with it many changes that require emotional and mental adaptation—but our loving God is in control.
Single Session Bible Study
Overview
Most of us have felt that we have some kind of control over our lives. As we age, events seem to rush on ahead, leaving us trying to adapt. Science and technology have left many of us behind, afraid that we will no longer be in the mainstream. Sometimes our own minds and bodies can no long be counted on to provide us the correct information or do for us what we used to take for granted. During this third stage of life, though vulnerable, we must make transitions that will take us deeper into trusting and knowing God.
Table of Contents
SCRIPTURE: Esther 2:1–9; 4; Ruth 1:1–17
LEADER'S GUIDE
• Identify the Current Issue
• Discover the Eternal Principles
–Teaching point one: Vulnerability is a part of everyone's life. As we age, we become more aware of our inability to control our environment.
–Teaching point two: Awareness of vulnerability prompts us to seek out community.
–Teaching point three: Being vulnerable helps us to recognize our dependence on God and his faithfulness toward us.
• Apply Your Findings
• Recommended Resources
Total number of pages – 10
Becoming Vulnerable