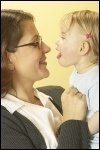 Balancing Work and Home
Mothers can successfully parent and work.
6 Session Bible Study
Overview
Somehow many women have gotten the idea that life is a competition for the busiest-woman-alive award. Our study combats this prevalent cultural attitude with such topics as avoiding comparisons, saying no, connecting with your kids, setting aside a day for rest, and conquering working-mother guilt.
Session 1 - Debunking the Myth of the Ideal Mom
Did God give us a formula for motherhood?
Session 2 - Balancing Work and Family Life
Prayer and preplanning can provide wisdom to balance our homelife with our career.
Session 3 - Balancing Your Life by Saying No
Many of us live hectic lives because we haven't learned how to say no.
Session 4 - Creating a Stronger Parent-Child Bond
Why is a strong parent-child bond important to passing on our faith to our children?
Session 5 - Conquering Guilt
When God leads us to work outside the home, we can still be great moms.
Session 6 - Looking for Rest
Is Sunday just another day?
Balancing Work and Home