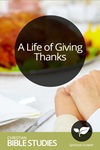 A Life of Giving Thanks
Catch a glimpse of a life permeated by a grateful heart that overflows toward others.
4 Session Bible Study
Get a glimpse of what it means to live a life of giving thanks—one permeated by a grateful heart that overflows to others. Use this 4-session Bible study to lead up to Thanksgiving, or to remind yourself at any time of the year that we should be living grateful lives for the One who gave his all for us. You will receive two bonus articles with this download. Click here to view a preview.
Session One
The Joy of Being Content
Learning to smile with what you have
Exodus 16:11-18; 2 Samuel 11:2-4; Psalm 84:11, 145:15; John 21:17-22; 2 Corinthians 12:10; Philippians 4:11-13; 1 Timothy 6:8
We have more, but enjoy less. No matter how hard we work or how much money we accumulate, on the whole we are not happier. Why is that? Somewhere along the line we have entertained the notion that we are entitled to more, which has made us discontent. But contentment can be learned and overflow in thanks.
Session Two
Model Gratefulness
How to avoid having entitled children
Psalm 84:11-12; Matthew 6:19-24; 14:19-21; Luke 9:57-58; 2 Corinthians 10:17-18; Philippians 2:3-8; 1 Timothy 6:6-10; 2 Timothy 1:13-14; James 2:2-7
This study focuses on the next generation. Most of us have heard that "values are caught, not taught." We need to walk the truth before our children, not simply share it with them. Without learning thankfulness, children can grow up to look like the world around them. For those of you who aren't parents, it's still good to think about the example you are setting for the children in your church.
Session Three
Simple Living
Are we consumed by consumption?
Deuteronomy 26:1-11; Ecclesiastes 5:10-6:9; Matthew 6:25-33; Acts 2:44-47; 2 Corinthians 8:1-9; Hebrews 12:1; Revelation 3:17-20
We can be possessed by what we have—or don't have. While Christians should live simply, the focus should not be on getting rid of what we have, but rather upon cultivating the disposition of "a life of joyful unconcern for possessions" (Richard J. Foster). This study focuses on what it means to live simply, and how we can cultivate an attitude of contentment and gratitude.
Session Four
Come Thou Fount
A study of the classic hymn and the importance of remembering God's blessings in our lives
Deuteronomy 8:6-20; 1 Samuel 7:2-13; Ephesians 1:3-10
This classic hymn was written by a man who experienced a dramatic conversion from gang member to preacher. The hymn acknowledges God as the giver of every blessing. Who receives praise for the blessings we are given? How can we commemorate God's actions on our behalf? How can we avoid wandering away from our Savior?
Total number of pages - 48
A Life of Giving Thanks