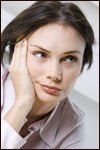 Anger with God
Anger is an honest emotion, but dare we express it to God Almighty?
4 Session Bible Study
Week One
Honest Anger
Being honest with God is the first step toward resolving our anger.
Week Two
Believe God Loves You
To resolve our anger, we need to trust God because of our confidence in his love.
Week Three
Bless and Honor God
As we develop an honest relationship with God, our trust blesses him.
Week Four
Replacing Anger
Learning to thank God for everything will help relieve our anger.
Total number of pages—53
Anger with God