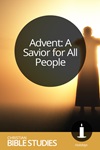 Advent: A Savior for All People
Prepare your heart for the greatest Christmas gift of all.
4 Session Bible Study
Use this four-session study to focus on Christ this Christmas. We can learn from Zechariah and Elizabeth how to prepare our hearts to receive all that God has for us. Mary teaches us about the true meaning of Christmas. We learn how to prioritize our Christmas from the shepherds. And Simeon and Anna teach us how to respond to the best gift of all time.
Session One
Be Prepared
Are you ready to receive what God is offering this Christmas?
Luke 1:1–25

We need real time and space markers that remind us of the great events that define our faith. But if our Christmas is to be spiritually successful, we're going to have to fight for it. And the way to do that is through preparation.
Session Two
The True Spirit of Christmas
Are you where God wants you to be this holiday season?
Luke 1:26–56

The true spirit of Christmas is not the spirit of family bonding or even the spirit of rejoicing. All of those things are well and good, but Mary teaches us that the true spirit of Christmas is a spirit of humility.
Session Three
A Christmas To-Do List
What's at the top of your list this season?
Luke 1:57–2:21

If we look hard enough, we might find a whole new piece of the Nativity scene that's been in the closet for years—never unwrapped.
Session Four
The Bad (or Good) News About Jesus
Jesus' birth was the best thing that could happen to you—or the worst.
Luke 2:22–38

The day after Christmas can be disappointing. Perhaps Mary and Joseph felt similarly after Jesus' birth. In the days to come they had to face the bad news with the good.
Total number of pages - 38
Advent: A Savior for All People