True or False: 90% of Babies with Down Syndrome are Aborted
A new study demonstrates the role of culture in welcoming children with Down syndrome.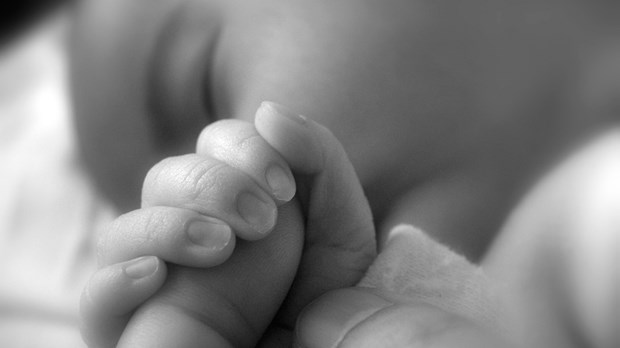 Image: kudaker
For years, I have read news headlines in Christian and secular outlets, from conservatives and liberals alike, stating that "90% of babies with Down syndrome are aborted." As I have argued before, and as a new study demonstrates, it's just not true. Correcting this common misconception matters both in providing accurate information to pregnant women and in normalizing the experience of receiving a child with Down syndrome.
Last week, the American Journal of Medical Genetics published a study about the birth rates of babies with Down syndrome in the United States. The study estimates live births of babies with Down syndrome from 1900-2010, with a focus upon the effect of prenatal screening programs within the United States on the population of babies with Down syndrome. After factoring in the expected number of live births, miscarriages, and stillbirths, it then posits a "reduction rate." This reduction rate demonstrates the number of babies with Down syndrome that are not born as a result of selective abortion.
To be specific, in 2006-2010 theses researchers estimate around 5,300 babies were born with Down syndrome annually. During this same time period, approximately 3,100 babies with Down syndrome were selectively aborted each year. Around 800 of those aborted babies would have died before birth, so without selective abortion, the researchers estimate there would be around 7,600 live births with Down syndrome. The reduction rate of babies with Down syndrome in the United States in 2010 was around 30 percent. In other words, without selective abortion, the number of babies born with Down syndrome in recent years would have been about 30 percent higher than it actually has been.
So why is this study important?
First, it establishes a baseline of how many pregnancies with Down syndrome ended as a result of selective abortion before the advent of new non-invasive prenatal screening tests ("NIPT") came on the market in 2011. The new tests offer greater accuracy in detecting pregnancies in which the baby has trisomy 21 (Down syndrome), and they do so earlier in pregnancy than previous screening tests. Before these tests, about 70 percent of pregnant women pursued some prenatal screening. With these new tests, more and more pregnant women may decide to avail themselves of the information offered through these tests, which may lead to a greater number of abortions. This data will allow help provide an understanding of the effect of these new tests on the selective abortion rate.
Second, however, this study also demonstrates that the majority of women carry babies with Down syndrome to term. Here's where it gets a little confusing. A screening test (and this is true even of the new NIPT tests) simply provides a prediction about whether or not a child will have Down syndrome. The only way to determine a diagnosis with near certainty is through chorionic villus sampling or amniocentesis, both of which remain invasive procedures with some measure of risk to the baby. Amniocentesis is the most reliable diagnostic tool, and it cannot be performed until around 16 weeks.
Here's where the confusing and oft misreported statistics come in. Studies have shown that women who receive a prenatal diagnosis of Down syndrome through amniocentesis (who make up two percent of the population of pregnant women) generally seek an abortion 90 percent of the time. Still, the majority of women do not seek diagnostic information about their baby's chromosomal makeup, and the majority of women do not abort their babies with Down syndrome. It's possible that they don't abort simply because they don't know they are carrying a child with Down syndrome. But it is just as likely that they decide against having that information not out of ignorance but out of a commitment to their baby.
Third, the recent study demonstrates the role that culture plays in women's decisions about prenatal testing and abortion. When compared to other countries, the United States' reduction rate is quite low, comparable only also to the Netherlands, where the reduction rate for the population with Down syndrome is around 35 percent. Australia, by contrast, has a reduction rate of 55 percent, and the United Kingdom of 48 percent.
This study also demonstrates significant regional differences within the United States. Women in the Northeast are the most likely to choose to terminate their pregnancy, with a reduction rate of around 46 percent, whereas women in the rest of the country have a reduction rate of anywhere from 25 to 30 percent. More research is needed to determine what cultural factors contribute to these decisions—Is it the way medical information is presented? Does it correlate with religious commitments? What role could churches, doctors, and other community members play in demonstrating the positive possibilities for children with Down syndrome within our current society?
We don't have the answer to these questions, but this study demonstrates that culture matters when it comes to creating an environment hospitable to babies with Down syndrome. For those of us who care about supporting parents who are making decisions about prenatal screening and diagnostic tests, for those of us who care about receiving children with Down syndrome into this world with celebration and gratitude, this study provides important information and hope.
The last thing a pregnant woman facing the likelihood of a baby with Down syndrome needs is to think that keeping that baby is an abnormal choice. This study demonstrates that carrying babies with Down syndrome to term and receiving them into families and communities is the norm within the United States. It also demonstrates that cultural values affect the choices women make about prenatal screening and about prenatal tests. We all can contribute to sustaining and creating a culture in which people with Down syndrome are welcomed and valued. Thankfully, many parents are already making the choice to bring these babies into the world and offer us all the gift of their presence.
If you liked this blog post and want to read more, subscribe to my newsletter, follow me on Twitter @amyjuliabecker, or check out my Facebook author page. You can also read more about parenting and faith in Small Talk: Learning from my Children about What Matters Most.
Support our work. Subscribe to CT and get one year free.
To add a comment you need to be a registered user or Christianity Today subscriber.
Recent Posts
True or False: 90% of Babies with Down Syndrome are Aborted